---
Flambouayia
Polis Chrysochous, Evagora Pallikaridi 7, Polis, Cyprus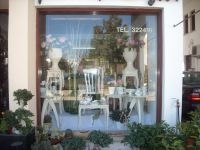 Address:
Polis Chrysochous, Evagora Pallikaridi 7,
Polis
About Flambouayia:
Anything you need for your marriage, your child's baptism, ceremonies, children parties, for gifts or for your garden, you will find it at the Flambouayia store. Our flower shop has to offer you a wide variety of flowers, balloons and original ideas for decorations for marriages & baptisms, balloons, churches, for any occasion. Same day deliveries in Polis and surrounding areas.
Opening Times:
Mon

9am - 5pm

Tue

9am - 5pm

Wed

9am - 5pm

Thu

9am - 5pm

Fri

9am - 5pm

Sat

9am - 2pm

Sun

Closed
We deliver flowers to:
Agios Isidoros
Akarsu
Akourso
Akoursos
Akurso
Altincik
Anadhiou
Anadhiu
Anadiou
Anadyu
Anatyu
Androhkou
Androlikon
Androlikou
Androlykou
Antroliku
Argaca
Argaka
Arkaka
Arodhes
Arodhes Kato
Asagi Akurdalya
Asagi Arodes
Asagi Arodez
Asagi Kalkanli
Asagikardali
Asagiyayla
Ayia Marina Khrysokhou
Ayios Isidhoros
Aysederos
Aysidero
Bakacak
Besikte
Besiktepe
Cakirlar
Choli
Chrysochou
Cinusa
Demirci
Dereboyu
Dhrinia
Dhrousha
Dhrymo
Dhrymou
Dhrynia
Drimu
Drinya
Drousa
Drouseia
Drusa
Drymo
Drymou
Drynia
Evretou
Evretu
Fasli
Fidi
Fiti
Fyti
Gahiga
Gialia
Giolou
Girit Tera
Gormeli
Goudhi
Goudi
Gudi
Gundogdu
Hirsofu
Holi
Ineia
Inia
Inya
Istinco
Istingo
Istinjo
Istinjon
Karaagac
Karamoullides
Karamoullidhes
Karamulla
Karamulles
Karamulliyes
Karamulyez
Karsiyaka
Kathikas
Katika
Katikas
Kato Akourdaleia
Kato Akourdalia
Kato Akourdhalia
Kato Akurdalia
Kato Akurdalya
Kato Arodesd
Kato Arodhes
Kato Gialia
Kato Yalya
Kato Yialia
Kervanyolu
Kholi
Khrisohu
Khrysokhou
Kinousa
Kinusa
Kio
Kritou Tera
Kritou Terra
Kritu Terra
Kusluca
Kynousa
Lacci
Lachi
Lakki
Lasa
Latzi
Liso
Loukrounou
Lukrunu
Lyso
Magounda
Magunda
Makounta
Malatya
Mavioli
Mavroli
Meladeia
Meladhia
Meladya
Melandra
Melatya
Milia
Miliou
Milya
Milyu
Nea Dhimmata
Nea Dimmata
Nea Dimmatya
Neohoryo
Neokhorio
Neokhorion
Neon Chorion
Olukonu
Pano Akourdaleia
Pano Akourdalia
Pano Akourdhalia
Pano Akurdalya
Pano Arodes
Pano Arodhes
Pelathousa
Pelathusa
Pelatusa
Peristerona
Phasli
Philousa Khrysokhou
Phiti
Phyti
Poli
Prodhomi
Prodhromi
Prodromi
Saint Marina
Sarama
Simou
Simu
Skoulli
Skulli
Steni
Tabanli
Tatlica
Teletra
Tera
Terra
Theletra
Tremythousa
Trimithousa Khrysokhou
Trusa
Uzunmese
Yakacik
Yalia
Yalu
Yalya
Yayla
Yenije Keuy
Yenikoy
Yialia
Yiolou
Yolu
Yukari Arodez
Yukari Kalkanli
Zacharia
Zaharya
Zakharia
All reviews for Flambouayia
Beautiful flowers from Flambouayia. Ordered on 23/12 and asked if they could be delivered next day (a Sunday) and they were! So happy with service. Definitely use again!

Fast efficient value sms friendly service

Fabulous flowers, delivered on time.

Great service. I needed the same day delivery, paid the order in the morning and the flowers were delivered in the evening! Thank you for great service!

Great service.. Requested a last minute change to date of delivery and I received a prompt response confirming that wasn't a problem. Flowers delivered were lovely & attractively arranged. They did differ in colour from the picture but arrangement was the same & I didn't expect an exact match. Recipient thought they were lovely.

Ordered online via website and selected Flambouayia as I had used them 2 years ago. Photo's provided a good example of their range and made choosing the correct bouquet easy. Delivery was for the next day and can say I received the phone call from my Mum to say they had arrived and were expertly arranged. Would order from Flambouayia again without hesitation. Always a concern when ordering from another country but can say that this is one I would use again and again.

My friends really loved the bouquet, beautiful colours. And it was the first time that they'd had flowers delivered to them in their village. I'm very pleased with the same-day service I received. Excellent.

From order to delivery, everything was easy to do and arrived when required. The flowers and how they were arranged was excellent and I have a very happy mother who reports they were lovely. I will use this flourist again and again.

Fabulous arrangement of flowers and delivered promptly and without any fuss - exactly what you'd want!

Five star performance again.

Customer awarded 5 stars.

Customer awarded 5 stars.

Beautiful flowers hand delivered in hours

Quite excellent service. The flowers are always stunning and sometimes, when delivery is complicated, they take great care to get it right. A top class service. Thank you.

Customer awarded 5 stars.

Flowers were delivered quickly, and the recipient tells me they were lovely.

Customer awarded 5 stars.

My friend loved the orchid! Thank you.

The flowers were beautiful.

Thank you so very much for the service you provided. My friend received the most beautiful flower arrangement. Delivery time was as requested. I will definately use your company again and recommend you to family and friends. Best Wishes.

I ordered the night before, and the flowers arrived to my mother in Cyprus the next day, and she was very please with them!

Beautiful flowers, consistent excellent service. Always contacts recipient to ascertain correct address and delivery time. Can recommend this florist, definitely 5*

the flowers arrived on time on the day requested and were VERY WELL received, thank you so much for such a great service!

My mum really enjoyed her flowers for Mother's Day, ending up with 3 huge vase fulls. Highly recommended!

Fast delivery and apparently the flowers were beautiful.

Beautiful flowers delivered on date/time specified. Excellent!

Delivered on time and mum loved the flowers. I will keep using this florist every time. Thank You!