---
Cosmea Gardens
Giannou Kranidioti Ave, Larnaca, Cyprus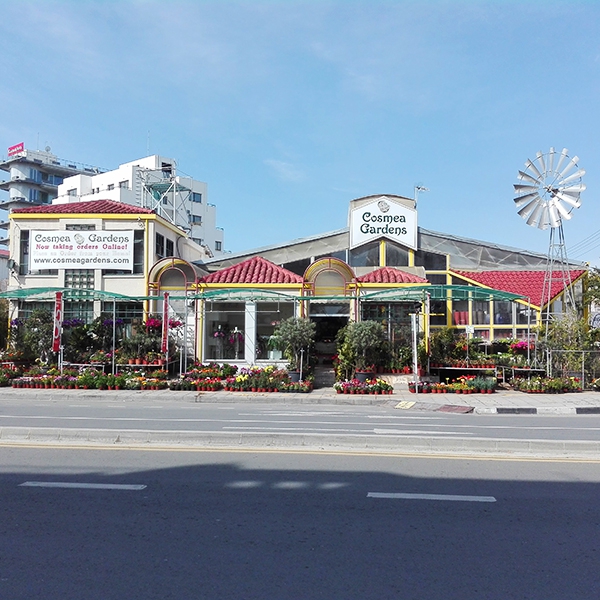 Address:
Giannou Kranidioti Ave,
Larnaca
About Cosmea Gardens:
Our family owned business, established since 1980, is continuously working to be one of the best flower shops in Cyprus by serving Larnaca and surrounding communities with an extensive selection of fresh flowers, agricultural products and gardening tools to name a few. We take pride in our commitment.We deliver all over Cyprus except the North occupied part.
Opening Times:
Mon

8am - 7pm

Tue

8am - 7pm

Wed

8am - 7pm

Thu

8am - 7pm

Fri

8am - 7pm

Sat

8am - 7pm

Sun

Closed
We deliver flowers to:
Agia Anna
Agia Napa
Agios Theodoros
Agkleisides
Aglisides
Alamino
Alaminos
Alaminyo
Alethriko
Alethrikon
Aletirke
Aletrike
Aletriko
Anafodiya
Anafotia
Anafotida
Anaphotia
Anglisidhes
Anglisiya
Anklisides
Aplanda
Aplanda Chiftlik
Aplanta
Aradhippou
Aradip
Aradippou
Aradippu
Athiaenou
Athienou
Atienu
Avdeler
Avdelero
Avdellero
Avdhellero
Avdhelleron
Ayanna
Ayia Anna
Ayios Teodoros
Ayios Theodhoros
Ayios Theodoros
Bervolya
Celya
Choirokoitia
Cite
Cyta
Dekeleia
Dekelia
Dhekelia Cantonment
Dhekhelia
Dhromolaxia
Dikelia
Dikelya
Dromolaksia
Goshi
Gosi
Kalavaso
Kalavason
Kalavasos
Kalokhoria
Kato Lefkara
Kellia
Kition
Kitium
Kittim
Kivisil
Kivisili
Klavdhia
Klavdia
Klavya
Kofinou
Kofinu
Kosi
Ksilodimbo
Ksilodimbu
Ksilofagu
Ksilotimbu
Laksa
Larnaka
Limbia
Limbya
Livadia
Livatia
Lymbia
Lympia
Marina
Maroni
Mazoto
Mazotos
Meneou
Meneu
Mennogeia
Mennoya
Menoya
Menoyia
Mosfiloti
Mosphiloti
Ormidhia
Ormidia
Ormidya
Ormiteia
Ormitya
Perivolia
Perivolya
Petrofani
Petrophani
Pila
Pile
Pirga
Pseftas
Psematismeno
Psematismenos
Psematizmeno
Psevda
Psevdas
Psevdhas
Pyla
Saint Theodoros
Scala
Softades
Tersefan
Tersefanou
Tersephanou
Tersofanu
Troulli
Troulloi
Trulli
Vorglini
Voroglini
Voroklini
Xylophaghou
Xylophagou
Xylotymbo
Xylotymbou
Xylotymvou
Zygi
Overview for Cosmea Gardens
All reviews for Cosmea Gardens
Great service. I have used it for several years now, Easy to use and reliable.

Flowers looked beautiful just like the photographs online ????????

Very fast delivery, lovely flowers thank you

Once again this flower shop has proved that what you see is what you get. The flowers were fresh and looked amazing, this shows the staff and delivery team will always deliver.

I ordered a bouquet called mums handtied pink.. the bouquet shown on the website looks stunning and full. Unfortunately the bouquet that was sent looked nothing like the one i ordered. I know obviously it cant be exact but this was not even close! Not even the colour palette was correct. If the florists can just send whatever they want, why do you give your customers choices of bouquets? Im not one to complain but this was very disappointing and the bouquet sent was frankly just quite sad... ive been ordering with direct2florist for a long time now because i was always sure that whatever was sent would look great. But for 50euros, ill have to reconsider next time.

Purchasing flowers in a foreign country can be a little nerve racking, but with this service made it easy. The flowers arrived on time and were (by accounts) beautiful. Would use again

The florist contacted me to clarify the exact address. I later heard that the flowers arrived and the family were very pleased.

Excellent service, delivered on time, very happy.

Delivered on time. Beautiful flowers Thank you

Great service! Very fast delivery.

Great quality and arrived on time!

Thank for your wonderful service, we did see a photo of the flowers after delivery and were a little disappointed in the way it was presented. It looked quite different from the picture on the site. This disappointed us as it was far too feminine and far too pinkish and romantic for a funeral/sympathy bunch of flowers. Please give exact description and example next tme

Customer awarded 5 stars.

Our friend loved the flowers and they were promptly delivered. Thank You!

Thank you! brilliant service and the flowers looked fantastic.

COSMEA GARDENS did a great job. I live in America, so I had to rely/utilize the web. As I looked over the options of florists for Cyprus, on the direct2florist web, I found Cosmea Gardens to have a nice selection (very nice pictures and descriptions) with such very, very reasonable prices. I placed my order on a Sunday night (to be delivered for a funeral with less than 15 hours for delivery time). My sister phoned me the next night and said the flowers were such a nice arrangement. She described them to me, very much like the picture I saw on their site. I was so happy to hear that and to know, in the future, I can count on Cosmea Gardens to deliver a quality product, on time and at a very good price. The next time I visit Larnaca, I will stop at their shop and thank them personally.

Brilliant service! I was a bit weary ordering online whether or not the flowers would get delivered on time. I was also worried about the quality of flowers that would get delivered. I couldn't believe it that they contacted the florist from my tiny village in Greece to deliver flowers I had ordered for my mother's birthday. Truly impressed with the level of service and she loved the surprise and the flowers! Keep up the great work guys!

A beautiful selection of fresh colourful flowers and delivery was as requested. My mother was very happy with the gift! Thank You Cosmea Gardens - I will definately use your service again.

Good service But unfortunately your pot of flowers did not have and care instrustions i.e. how often to water or one they bloom to full will they regrow or does one have to throw away! Thank you maybe you could send on the instructions for after care to the person that they were delivered to. Thank you it came in time

Beautiful flowers delivered on time. Thank you.

Very helpful and speedy thankyiu

We heard the flowers sent were vey nice. thank you

The flowers were beautiful, the delivery time was as requested.

i have used Cosmea Gardens twice now and on both occassions have received first class service and would recommend them over and over again. Extremely happy customer.

No problems at all. Good service.

I was only a little dissapointed with the florists choice to deliver tulips as by not choosing them as an option I was expecting a mixed bunch of seasonal flowers. Apart from this tiny hitch I am still pleased with the service and my mum was overjoyed at receiving her flowers on mothers day. I have used direct2florist a few times now and find them to be very reasonably priced and never fail to deliver on time. I would highly recommend them and most definately continue to use their service.

Absolutely excellent customer service - following confusion over the address which was entirely my fault, after contacting me and calling my Father, mum's flowers were delivered to where they were out having Sunday Lunch and the flowers were stunning! One very happy and hugely grateful customer - 5 star florist with 5 star service - Highly recommended! Thank you

I haven't seen the flowers myself as I'm not in Cyprus at the moment. I used Cosmea as I have shopped there when I have been in Cyprus and have not been dsappointed - my sister-in-law was delighted wth the flowers. She said they were gorgeous and the colours and variety were lovely( I odered the florists choice, wanting flowers that were in season). I would definitely oeder from them again.

Customer awarded 5 stars.

fabulous flowers but delivered at 2.15 pm when i ordered an am delivery

Excellent service, ordered flowers for my nan who lives in larnaca (I live In london) and couldn't have had better service!

Customer awarded 5 stars.

Customer awarded 5 stars.

Beautiful flowers, delivered at time requested. Thank you for making my Mum's Birthday a special day.

I ordered the florist's choice and the person to whom I sent them was delighted! A beautiful selection.

Superb service. We will definitely be using you again. Thank you!

Fantastic flowers and prompt delivery! I used this florist to deliver flowers to my brother and his fiance the night before their wedding. Received pictures of the flowers and they are beautiful. I would definitely use Cosmea Gardens again. Thank you!

I ordered a plant and chocolates to be sent on a specified date and delivery was as per my request. feed back from the recipient was good but I am unable to rate the items as I have not seen them personally.

Customer awarded 5 stars.

The recipients thought the flowers were lovely.They were delivered as requested.

I DID HAVE MY RESERVATIONS AS THIS WAS THE FIRST TIME USING THIS SERVICE BUT I DID NOT HAVE TO WORRY. AS MY MOTHER PUT IT 'SHE RECEIVED THE MOST BEAUTIFUL BOUQUET' AND WHAT A SURPRISE. I WOULD DEFINATELY RECCOMMEND COSMEA GARDENS AND USE THEM AGAIN.

Ordered flowers from the UK for Cyprus - within an hour the bunch of flowers was with its owners! Amazing, super fast service! Will definitely use them again.

Thank you for such a brilliant service. My sister was so pleased and said the flowers were stunning. Will certainly use you again in the future.

Received an email from the Cyprus family who assured us that the flowers are lovely and arrived in good time so we are happy to give you the 5 star rating. Thank you

Delivered in the morning as requested and flowers were beautiful. Thank you

The flowers were delivered the same day even though I ordered after the shut off time. the presentation was stunning as was the card.