---
Samantha's Flower Shop
Sperchiou 3B, Ayios Ioannis, Limassol, Mesageitonia, 4000, Cyprus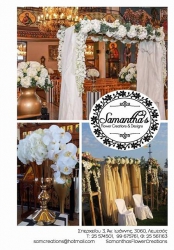 Address:
Sperchiou 3B, Ayios Ioannis,
Limassol ,
Mesageitonia ,
4000
About Samantha's Flower Shop:
An English speaking florist in Limassol delivering fresh flowers daily in Limassol and surrounding areas. We always deliver gorgeous fresh flowers, our service is our reputation and we believe we provide the best flower delivery service for miles around! Visit our shop or order online via our pages at Direct2florist to ensure first class service. We look forward to hearing from you!
Opening Times:
Mon

9am - 5pm

Tue

9am - 5pm

Wed

9am - 2pm

Thu

9am - 5pm

Fri

9am - 5pm

Sat

9am - 2pm

Sun

Closed
We deliver flowers to:
Abesa
Abosha
Agios Athanasios
Agios Tychon
Agrotur
Akrotirion
Akrounda
Akrounta
Akrunda
Akrunta
Alasa
Alassa
Aloupi
Apaisia
Apesa
Apesha
Apesia
Apoesia
Apsiou
Apsiu
Apsou
Apsu
Arakapas
Armenehor
Armenochori
Armenohor
Armenohori
Armenokhori
Asagi Binatli
Asagi Polemitya
Asomados
Asomalos
Asomato
Asomatos
Aya Filya
Ayafila
Ayandihona
Ayatanas
Ayatanasiyo
Ayia Fila
Ayia Phyla
Ayios Amvrosios
Ayios Atanasios
Ayios Athanasios
Ayios Tihonos
Ayios Tykhonas
Ayithona
Berengaria Village
Bulgurlu
Burciu
Burclu
Canakkale
Chiftlikoudhkia
Dhierona
Dierona
Diyerona
Donemec
Doros
Esenkoy
Fasoulla
Finikari
Finikaria
Finikarya
Foinikaria
Gerasa
Gorfi
Gozuguzel
Halasa
Halassa
Ipsona
Ipsonas
Ispitali
Kalassa
Kandou
Kandu
Kantou
Katalynata ton Plakoton
Kato Aspiou
Kato Polemidhia
Kato Polemidia
Kato Polemidya
Kayakale
Khalassa
Kokkinoyia
Kolos
Kondovouna
Korfi
Korphi
Lania
Lemesos
Lemessus
Leymosun
Limasol
Loura
Madikoloni
Mathikoloni
Matikoloni
Mesa Geitonia
Mesayitonia
Mesayitonya
Monagri
Moni
Moniatis
Moutayaka
Moutayiaka
Mouttagiaka
Mutayaka
Muthiyaka
Mutlayaka
Mutluyaka
Muttayaka
Palodeia
Palodhia
Palodiya
Palodya
Pamboula
Pano Aspiou
Pano Polemidhia
Pano Polemidia
Pano Polemidya
Paramiha
Paramita
Paramitha
Paramytha
Parekklisha
Parekklisia
Pareklisa
Pareklisha
Phasoulla
Phinikaria
Piskobu
Podhimata
Polemidhia
Polemidhia Camp
Polemidia
Pyrga
Pyrgos
Saint Athanasios
Saint Phyla
Soularavia
Souni
Spitali
Spitalli
Trachoni
Trahon
Trahoni
Trakhoni
Trimiklini
Vounaro
Yalova
Yeni Korfi
Yerasa
Yermasoyia
Ypsonas
Yukari Binatli
Yukari Polemitya
Yunus
Zakaki
Zakati
Overview for Samantha's Flower Shop
All reviews for Samantha's Flower Shop
Excellent in all respects. We have seen photos of the delivered arrangement which looks even better than the sample on the website. Thank you

They did not notified me the flowers were delivered, i sent fb message, i called them on their cell, i sent whatsapp message and email all together and only after that they replied and confirmed the delivery.... the recepient has sent me the photo of the flowers and it DOES NOT correspond to the appearence of the ordered flowers. The delivered flowers looks way more poor than the offered flowers!

Can I say the flowers were absolutely beautiful for mothers day. You delivered them on mothers day which i have never been able to do in the past, making a mother really happy and a daughter very happy that my mam is so far away in Cyprus and i could still let her know i love her with a beautiful bouquet and card. Thank you so much i will definitely be using this service again. x

Customer awarded 5 stars.

Prompt delivery, and a great flower arrangement.

Excellent and fast service

Thank you so much for the flowers! My wife was delighted. I am glad I let your creativity go.

The flowers delivered looked so much better in reality than what was on the website! For some years now I am able to send an awesome birthday gift to a dear person for her birthday even from miles away! Thank you for this!

Each time we have used your service, the recipients have been very pleased with the floral arrangements. Thank you.

Customer awarded 5 stars.

Amazing service thank you very much

Customer awarded 5 stars.

Beautiful flowers - recipient delighted. I was sent a photo of them and they were exactly like the arrangement I'd chosen. Many thanks

Customer awarded 5 stars.

Customer awarded 5 stars.

Flowers and card arrived as I asked, and from the photo sent to me look very nice, plus the card. Many thanks

Customer awarded 5 stars.

I ordered the flowers in the UK from the website and chose an arrangement I liked. I cannot say whether those actual flowers arrived, as I didn't see them. The recipient ,in Cyprus, loved them and they arrived on time. Thank you.

Brilliant service! Thank you so much. Beautiful bouquet delivered spot on schedule. Thank you.

Terrific flowers and arrived in good time.

Very quick and nice service. Flowers are beautiful!

My surprise Mother's day Orchid plant, soft cuddly toy and single rose were absolutely delightedly received by my mother, who has a home there as well as UK. They were delivered by a lovely man and lady who were very nice to my mother and made her feel really special. She sent me a photo of the gifts which were Exactly as shown on the website! Very Well Done Samantha's flower shop. Good Service, Great prices, Value for money, I will be recommending you to my family and friends and definitely will be availing myself of your sterling services again. Thank you!

Customer awarded 5 stars.

The flowers themselves were fantastic but the item was delivered a day earlier (28th Oct) than requested (29th Oct), resulting in it having to be held by a neighbour (lucky they were home) for a considerable amount of time. I have had excellent service from Samantha's in the past so this was disappointing

Great service, delivered on time and recipient extremely happ which was great as always concern when buying flowers overseas. many thanks

Ordered flowers for my friends 50th birthday who has recently moved to Cyprus to live. I requested a morning delivery if possible and around 8:30am UK time I received a thank you message and a photo of the flowers from my friend who was delighted with them! Excellent service - thank you ! Helen

A well presented, beautiful bouquet delivered on time. Thank you for helping make my wifes birthday so special.

My daughter's first delivery on moving into new home. Perfect timing!

I used the service twice this year and the senders were absolutely delighted! Thank you!

Thank you, Samantha's. You delivered a wonderful Christmas table arrangement to my parents' house that made them very happy indeed. My mum couldn't stop raving about how beautiful the arrangement was and my dad was choked to have received something so lovely. He'd only ever seen similar in hotel lobbies before. Thanks again, you helped to make the distance between London and Limassol seem a whole lot smaller this Christmas. We'll certainly be using you again. And again.

quick delivery execution, thank you.

Very pleased . Everything was like clockwork and flowers fab. Many thanks xxx

Customer awarded 5 stars.

Flowers delivered on time and were beautifully presented. My mother in-law loved them. Will be using again for sure. Thank you

Fantastic concept brilliantly delivered. Easy to use, amazing service considering the distance and the flowers arrived before i had even woke up! Would definitely use you again as my girlfriend was ecstatic and extremely surprised that it was even possible.

Delivered promptly without any problems. Would highly recommend and use service again if needed.

5 - for the operative order fulfillment and pleasure, my relatives received.

I did not see the flowers but was told they were beautiful. Thank you so much x

Having ordered, for the second time, from this florist in Limassol, I am more than happy with the service. I have seen the beautiful orchid they have delivered so mourn the sad loss of a loved pet, and it is a beautiful specimen - thank you, Eppey Gunn

Excellent service and beautiful flowers very reasonable prices also would definitely recomend

Thank you for your excellent and efficient service, the flowers were beautiful

Customer awarded 5 stars.

Beautiful arrangement that arrived on time.

I have used Samanthas flower shop before, I live in the UK and my daughter and her family live in Cyprus, so its always a risk to place an order when so far away, I can however fully recommend the product, service, value for money and delivery...thank you Samantha's Flower Shop, I will be calling again :)

Customer awarded 5 stars.

Pleased with the fast delivery following the order.The quality of the flowers I'm told was very good which is reassuring when you haven't seen them,particularly when the flowers are being supplied overseas.Thank you

Having never sent flowers over seas before, i was slightly nervous of the service i might receive, however i have to say, it was second to none. A* for commincation, service, presentation, quality and also value for money. The item that was purchased was not really like the picture, but to my amazement was 100% better. Thanku so much, i will have no problems with using you again and will definetly recommend you. Thankyou

Excellent Gift, Excellent design,Everything on time. The only minus was the gift card with the print copy of the wishes wrote online. In previous orders, there was a gift card with the purpose of the gift (i.e birthday, annuversary, mothers day ect)

It is my third time using Samatha's Flower shop, again the same excellent service as all previous times. Definitely recommend this.

Prompt service, polite people, thank you!

Customer awarded 5 stars.

Excellent service! Thank you very much!

Was very happy with the service given by this florist. Friends were out and flowers could not be delivered immediately and florist rang me twice. This was very good and willing service. I would use them again willingly. H. Henchie

Although I didn't see the flowers I was told they were lovely and they were delivered on time.

Excellent communication and superb service !!!

Samantha is simply the best always tries the best to meet your requirements, for over 5 years now ordering flowers from them! Great thank you, Peter

Beautiful flowers and excellent service. My mum was really pleased with her bouquet that I ordered in the UK and had some lovely advice from the florist. Will definitely be using again. Thank you!

Customer awarded 5 stars.

Customer awarded 5 stars.

Customer awarded 5 stars.

Customer awarded 5 stars.

On time, as promised. Good service.

Excellent service the flowers were lovely

Customer awarded 5 stars.

Customer awarded 5 stars.

Always just great service thanks

Prompt delivery and lovely card but must admit final product did differ from what shown. Not worse by any means I just preferred the colour theme in the one shown rather than the one delivered. Overall decent and good service.

Customer awarded 5 stars.

Customer awarded 5 stars.

Exellent service...Beautiful flowers delivered to our family x

Fantastic service from Direct2florist and from the florist herself Samantha Anastasi. I used your company last year to have flowers delivered to my mother in Cyprus and this year you have delivered a sterling service once again - responding quickly to a change I requested for the date of delivery. My mother loves the bouquet and they were delivered exactly when you said they would. I will definately continue to order flowers through you as your service is head and shoulders above the completition. Thank you very much. Darrel Barnes

What a fantastic service! So easy to use your web site, quick, and the flowers were delivered on time. Receiving your acknowledgement of delivery is also excellent. Will definitely use you again.

Very beautiful flowers. Will order again. Thanks!

Excellent flowers, vibrant colours and very fresh. My Mom was so delighted! Thank you!

fabulous, the wife loves the flowers and they were delivered on the day and time requested. many thanks

Customer awarded 5 stars.

wow, the power of the internet, delivered on time, correct date, no problem, no hassle. I didn't see the flowers, but I was assured they were lovely. thank you

Excellent service would use again

fantastic will use service again x

Xtremely fast and awesome! Def will use again!

Customer awarded 5 stars.

Very good service !! Well done !!

Customer awarded 5 stars.

I am really impressed by your service and offerings. I could not have asked for more than surprising my fiance by delivering him flowers. You guys did bang on time with the correct message. I would recommend about you to people here in India. cheers MRIDUL SHARMA

Customer awarded 5 stars.

I will recomend to everybody Samantha`s Flower Shop.Servis is just great and flowers which I`ve order,did come on time and everybody was saying there are so beatifull,fresh. I wish all best to this company with my regards. Client,x

EXCELLENT SERVICE AMAZED THAT I ORDERED THE FLOWERS AT 12.30 AND THEY WERE DELIVERED THE SAME DAY IN CYPRUS. THE FAMILY WERE SO TOUCH TO RECEIVE SUCH BEAUTIFUL FLOWERS.I WILL CERTAIN USE YOU AGAIN

Recipients very happy with delivery of flowers. Prompt and efficient. Thanks! :)

Customer awarded 5 stars.

very prompt service and my sister said staff very nice and flowers excellent thank you. yamas x

Delivered on time as requested. Recipient very happy

Perfect! The plant I picked was delivered on time, it looked wonderful, and wasn't overpriced. Can't descibe how pleased I am to have found a reliable flower delivery service in Cyprus!

Customer awarded 5 stars.

Thank you very much! The flowers turned out to be even more beautiful and bigger than on the picture. The delivery was on time. Thank you for such a great job!

Very helpful. My Girlfriend was very pleased with her flowers and chocolates which looked amazing :) thanks

My friend absolutely adored the flowers - thank you do much for the service and fabulousness!!

Delivered exactly on time for Mother's 89th birthday. Flowers excellent.

My mother loved the bouqet delivered but was unimpressed that even after giving direction on the telephone she had to twice drive out to try to meet the delivery man when he could not find the house, and on her birthday.

NICE FLOWERS AND DELIVERY ON TIME!!! THANK U SAMANTHA

The flowers were great!!! 5 stars from me

Customer awarded 5 stars.

my sister in cyprus just telephone to say flowers we very nice and nice prompt service. thank you

Customer awarded 4 stars.

Best choice ever. Lovely for everything this lady does.

Great flowers and good service!

Customer awarded 5 stars.

Customer awarded 5 stars.

I will always buy flowers from Samantha's Flower Shop. Its the best choice ever. =)

First-Class quality. Excellent work. Amazed. Buy with confident =)

My mother was delighted with the flowers

Customer awarded 5 stars.

Excellent service, my friend was at a hospital appt, samantha rang my house in UK and made me aware the flowers would be delivered later that day, excellent!!!

Good service and a lovely hand written card. Thank you.

Customer awarded 5 stars.

Nice to Deal with. Fast Dilivery, Beautiful flowers

I ordered flowers today at 11am GMT for a client in Cyprus. They received the flowers today at 3pm GMT and were over the moon. Very efficient ???I am a very very happy customer. Happily recommend this service to others

An excellent and efficient service which I shall use again

Thank you for 1st class service, my mum was very pleased with the flowers and communication from the florist

Customer awarded 5 stars.

Customer awarded 5 stars.

Mother very pleased with delivery & card

Same day delivery of flowers ordered from the UK to be delivered abroad, email confirmation sent when flowers were received - very efficient

Excellent service! Definitely recommend this florist. Thanks for making my mothers day flowers- she was really pleased.

Brilliant! You managed to deliver on a Sunday and in the morning.....my mother loves the flowers. It helps so much to be able to rely a good service. Thanks!

Really lovely thank you so much samantha x

Customer awarded 5 stars.

Customer awarded 5 stars.

Customer awarded 5 stars.

Was asked to rate you earlier but again - top marks! Fast delivery, good fresh flowers that look set to last and a lovely bouquet

Excellent service. Flowers were personally delivered to make a deadline for a funeral. Couldn't have been better. Thanks a lot!

Customer awarded 5 stars.

Flowers were beautiful, well worth the money. Lovely lady and defo would use them again.

excellent service, flowers were delivered on time,good quality as well. flower shop confirmed delivery time prior to delivery. i will use again.

Customer awarded 5 stars.

Again very nice bouquet delivered on time. Very good service and I really recommend you this florist.

Its very clear that Samantha's Flower Shop is not only in business for money, no she loves flowers! For years I am ordering flowers trough her and every time she amazes me! Great choice and even better than the picture of the flowers ordered! Again thank you so very much! Peter J Bosse

Very very quick delivery and excellent customer service. Worked with the florist throughout any problems and wasn't talked to and as just another customer.. It was very friendly and personal and that would definitely have me shopping here agains and again in times to come. The flowers were great and the chocolates as well. They were shipped nicely and delivered very well.. just looked really great.

Thankyou for such good service. I ordered a bouquet for my friends 60th birthday and they were delivered as promised on the same day. Much appreciated.

Great! Easy to order, reasonable prices and my mother loved the flowers.

Customer awarded 5 stars.

Same day delivery, reliable service, will use again.

great service. professional. I would definitely use their service again.thank you very much.

Customer awarded 5 stars.

Customer awarded 5 stars.

Delivery on time and buquet really nice and romantic. Perfect service.

Customer awarded 4 stars.

Perfect! Thanks Samantha! Will visit again!

Delivery was on schedule. The flowers were nice. Will order again.

The recipient is highly delighted and we are very pleased with the service would recommend. Thank you

Good service and nice flowers. Chocolates could be better (quality and amount).

It was nice to warking with Samantha's Flower Shop.Very plesant and EXCELLENT quolity services.Thanks a lot.100000000 THANK YOU.

a great way to send flowers abroad

Incredibly quick! My children cannot see their Yia Yia for her birthday, and this was a wonderful way to reach out to her. It really made her day, and ours!

Customer awarded 5 stars.

As usual great service from Samantha and on time...

Customer awarded 5 stars.

Lovely Flowers & great service 2 years running! Would deffinately recommend and will be using you again. Thank You.

very nice roses and the timing was also very good, I am a regular customer and I am very happy with this florist

Beautiful flowers. Made my Mum very happy. Thank you :0)

Exceptionally friendly and helpful service. Made a great effort to try to satisfy our wishes. Well done!

perfect - delivered on time with problems - a very happy customer

Excellent, would use again!!

On the day of the naval yard explosion I received a call telling me that they would not be able to deliver. My friend received the flowers the next day, and told me that they were lovely. Thank you for great service under very difficult conditions.

The best florist I have ever worked with, really professional but great people as well

Beautiful flowers always loved

Customer awarded 5 stars.

Excellent product well received and superb service on a Sunday delivery. Many thanks. Katerina

Customer awarded 4 stars.

The flowers that I have ordered have not been delivered yet due to you being unable to find a florist that could deliver on the day I requested i.e Saturday the new date is hopefully Tuesday which is not ideal but Due to the timescale left I had no choice.

Customer awarded 5 stars.

perfect job.. if any body need to send flowers in cyprus ..just use it ... thank you very much

2nd time used and great results. Mum very pleased too and thats the manin thing. Will definatly use again, added to main contacts for easy use!! Well done.

My Granny loved the flowers and card. Perfect!

Fantastic service, I received a phone to call to say the delivery person was outside the apartment delivering the flowers

Customer awarded 5 stars.

Great service. Flowers delivered as instructed, beautiful and fresh. Highly recomended.

Customer awarded 5 stars.

Excellent service - fast response

Excellent quality of service and excellent work with the decorations.

Amazing Mother's day flowers. My Mothers was so happy with the decorations.

Excellent service! Thank you!

Customer awarded 5 stars.

Customer awarded 5 stars.

Excellent service. Delivery as expected. Thanks for making this a special day for the Birthday girl... I will recommend this service to other friends and will use it again..

Customer awarded 3 stars.

Customer awarded 5 stars.

Very efficient sevice, very pleased with the service. Mum is very impressed with the flowers. I will use you again. Thank you

This was the first time we had ordered flowers from this florist . I had used interflora once before and was looking for a more personal and affordable service. Excellant service, not only did the florist contact me in the UK to say they were having problems contacting my Mum, the florist hand delivered my flowers. This was due to my parents going out in the morning and the delivery drivers had finished their shifts This was for Mothers Day, I had asked as a special request for my Mum to have a big hug as well, this actually happened ! I can't thank Samantha's Flower Shop enough fot the lovely flowers and outstanding service. I will use this shop again. Thank you.

Beautiful flowers, really pleased and will definately use this florist again. Thank you for making my mum's day !

This florist is excellant. My Mum is in Cyprus and I a in UK, Samnths is the only florist I feel confident thatwill deliver my flowers on time and tey are always so lovely. My Mum is always thrilled to receive them. Thnk you

easy to order, prompt delivery, excellent service

Customer awarded 5 stars.

Customer awarded 5 stars.

An amazing job my best friend was so touched and nearly cried over the surpice. Lovely flowers

Excellent very happy with presentation and rose will definatly be using you again. Thank you

I would like to give my big gratitute to the Florist for the amazing design and the beutiful card that was send. I woud like to give my recommendations to the Florist to put more flower product of the wesite since this work is amazing

My mams flowers arrived and were delivered on time and looking at the pictures she took and her comments on them,the are absolutely lovely.We are all really happy with the flowers,the delivery and the service.Will definately use again.Thankyou.

thanks for the nice roses and time

Samantha, thank you for such a prompt response to our order query. Considering the lateness of the order and the time difference with UK, the flowers were delivered same day - that is great Customer Service!

Customer awarded 5 stars.

Great flowers and worked to accommodate unique requests.

Customer awarded 3 stars.

thank you! valentines delivery made perfect!

Customer awarded 5 stars.

Customer awarded 5 stars.

Customer awarded 5 stars.

Excellent prompt service. Flowers were delivered to our friends in Cyprus within 2 hours of placing order in U.K. Could not hope to expect this superb service back home. Our friends were delighted with the wonderful flowers too. This is not the first time I have used this company and it certainly won't be the last. Well done.

Customer awarded 5 stars.

Customer awarded 5 stars.

Customer awarded 5 stars.

Prompt delivery on the day it was ordered. The recipient was extremely pleased with the flowers.Many thanks.

customer so pleased with flowers they looked like the photo on the computer,also the fast delivery. well done thank you

I would like to thank the Florist for the mazing work she did. I would like to say that I really liked her choice on picking up the right card for the occassion. Thank you

I would like to thank the florist for the amazing work on sending the flowers on time. I would like to thank the florist for the excellent work on picking up an amazing Birthday Card for my mother. I will be happy to place another order again soon.

A thoroughly excellent service. Beautiful flowers delivered swiftly. Thankyou so much.

Very fast and quality service. Flowers are great, thanks

Arrived when ordered and enjoyed by recipient.

Customer awarded 5 stars.

Well done. Better than I expected

nice flowers and on time,

Customer awarded 4 stars.

Customer awarded 5 stars.

I am so pleased with the service , Very good service and very speedy delivery This is my second order , and will definately use this service again .....Excellent

always high standard of service

Well done .....excellent service ..very promt so thank you very much i will deffinately be using you a lot many thanks matt

Excellent communication. Thank you

Customer awarded 5 stars.

Customer awarded 5 stars.

Customer awarded 5 stars.

Very prompt delivery - within three hours of placing the order. The recipient was overjoyed with the flowers.

Customer awarded 5 stars.

No doubts again. Samantha's Flower Shop means total "Quality" ...no more words needed... Thanks a lot Samantha for your disponibility and kindness.

Customer awarded 3 stars.

Thanks so much for sending the lovely flowers to my Aunt for her 75th birthday, she said the flowers were lovely they even had tiny lady birds on the leaves and she was very surprised they came with a card and a vase. Its those extra little touches that make you stand out above the rest!! Thanks again.

Very quick same day delivery. Quality flowers and display. Will definitely use again.

Great service and comunications. fast reply to emails

The flowers were very good and the delivery time excellent

Always everything perfect and staff are so kind and polite. Francesco

Once again an excellent service and delivered on time even if requested just a few hours before. Efxaristo. Francesco

excellent item and was really loved..thanks

Customer awarded 4 stars.

Website easy to use. Used the same day international service.Very quick service and flowers were beautiful (I'm told). One very happy Grandmother!

Thank you for an excellent service the florist in cyprus could not have been more helpful please pass on our thanks to her. They should be rated the top marks

Made a great effort to deliver the flowers on the day, much appreciated. Would recommend. A+

My mother said the flowers were beautiful and she loved them. Our request was noted and the delivery made on time and successfully. Thanks

was nice and on time and fresh flowers, thanks!

The delivery was on time and the message was translated in Greek beautifully; but the flowers were less than what the picture was showing (only three daisies and some greenery).

Customer awarded 5 stars.

Absolutely beautiful and contemporary display which my mother was delighted with. Also impeccable service.

Love the feedback and the speedy delivery. wonderful florist will definetely recommend to anyone and everyone.

Fantastic Flowers, my Mum called me in the UK immediately to tell me how wonderful the flowers were. Thank youvery much, I wll certainly be using you again

Absolutely fabulous flowers were beautiful and arranged to perfection:)

Fast service, excellent communication. Many thanks.

I am very surprised how fast the delivery was, I will order again with this florist, thanks a lot

Thanks a lot for service provided, regards

Many thanks, Receiver of the flowers was very impressed by the quality and service.

Customer awarded 5 stars.

I was very impressed with the service. Somebody from the shop rang my friend to ask what time of building it was i.e. business or residential and then wished my friend a very happy birthday. The flowers were delivered in birthday wrapping complete with a birthday card containing my message, and said flowers according to my friend were beautiful. Will definitely use again.

Customer awarded 5 stars.

Customer awarded 5 stars.

Samantha's Flower Shop in Cyprus - THANK YOU for your exceptional service! I definitely recommend your Flower Shop and will definitely use your services again in the future - Mark in Canada